As the world becomes more and more technologically advanced, we see this trend morphing into all sections of our lives – including our children's toys.
Smart toys, which connects to the internet, is not only one of the most popular buys of the year – they also pose a huge security risk to our children. A security researcher named Matt Jakubowski proved this by hacking into a Hello Barbie doll and retrieving personal data from millions of children stored in Vtech's servers.
The information includes names, ages, addresses, IP address, gender, email addresses, personal questions and answers, and passwords. The Barbie doll also contains audio files and photos. One of the dolls most popular features is also the most dangerous; it remembers questions and conversations in order to answer future questions more personally. But what are the possible risk here?
It won't be long until marketing companies sees the potential benefits of using these toys to advertise their products indirectly through these items. But the reality can be even more sinister than that. Mr. Jakubowski mentioned that "It's just a matter of time until we are able to replace their servers with ours and have her say anything we want". Do you see a possible issue here? What happens when this surveillance opportunity gets in the wrong hands? Governments and law enforcement have a history of tapping into people's private information, so why would they not listen to our kids? Children confide in their toys and tell them secrets they would not share with others. I am sure you have all heard; kids says the darndest things, well, can you imagine what you kids say behind closed doors?
The executive director of Campaign for a Commercial-Free Childhood, Josh Gollin, said: "Hello Barbie is a terrible toy that threatens children's privacy, well-being and creativity. We must stop Mattel and Toy Talk from spying on children's private play and spawning a whole host of eavesdropping imitators."
Companies producing smart toys are making changes in order to make the toys more secure, and less easy to hack in to, however, they are far from creating a safe product yet.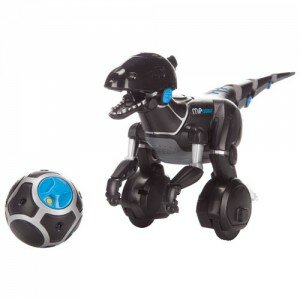 So what smart toys can you find on the market today?
According to Gizmag.com these are some of the most popular smart toys at the moment:
BB-8 by Sphero; a robotic ball dressed as BB-8 from Star Wars, which is controlled via a smartphone and responds to commands.
WowWee MiPosaur ; a responsive dinosaur also controllable via smartphones.
Dash and Dot; A robotic duo which uses apps to teach kids about coding and robotics.
In addition to this, you can find numerous smart dolls and stuffed animals created to make a more realistic imaginary friend for your children. Before you run to the store to secure your kid 'the next big thing' you should consider the possible threats these so called "smart" toys can pose. Perhaps it is not so smart after all?